Aurora Lodge was started shortly after the atrocities of the  First World War and has been thriving for over 100 years. 

As a matter of fact, the lodge thrived so much that we had to create a second lodge to accomodate all of those interested in being a part of our group; this is when  "Daughter Lodge" the Lodge of the Morning Star No 5428, only 13 years after Aurora itself was consecrated.

Aurora was, and continues to be, a group of men, from all walks of life, dedicated to bettering themselves while performing high-quality rituals, making great friendships and, above all, being exceptional hosts to our visitors.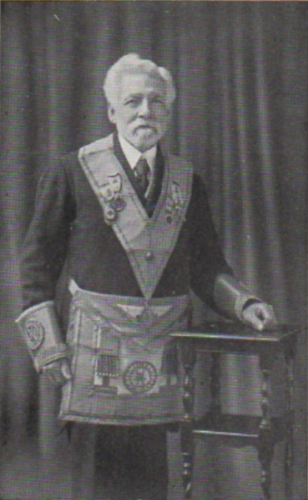 Above is Worshipful Brother Jose Rickard, our Primus Master (the lodge's first Master). He possesses the rare distinction of having served as Master to both our Mother Lodge (Coronation) and our Grand-Mother Lodge (Philanthropic).

He was 70 when Aurora was founded and made him Master. He was 94 when he passed away.
We are the daughter lodge to Coronation Lodge No 2922, which sadly is no longer active, and Granddaughter to Philanthropic Lodge No 304, among the oldest lodges not just in Yorkshire, but in England.
Across the United Grand Lodge of England, there have been four lodges called Aurora Lodge. Two in Australia, one in London (and then Essex), and us. We predate our Essex Brethren by 18 years.
Our first 50 years were in Great George Street, in the centre of Leeds.
We then moved to Roundhay Park in 1970, before coming to Headingley, in 1982, where we still meet today.
We've helped fund the construction of Freemason's Hall in London
We are one of only 1,321 lodges to have been recognised for their generosity in funding the construction of that beautiful art deco landmark.

This earned the lodge the title of "Hall Stone Jewel"